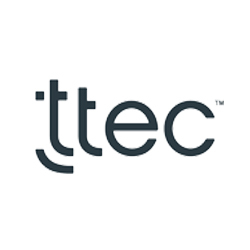 Customer Service Representative - HEALTHCARE
Orlando, FL
Join us at TTEC where we welcome Healthcare Customer Service Representatives who have a passion for helping others and giving them peace of mind.

Meet our recruiters this week!
Day/Time: Thursday, October 10th, 10AM-2PM

Whether it's getting answers for customers quickly, consulting on health-related products with compassion or resolving their issues with a smile, you will be the difference between their customer experience being just average or an exceptional one. We'll train you to be a subject matter expert in your field, so you can be confident in providing the highest level of service possible. And we trust you already have the necessary ingredient that can't be taught—a caring and supportive nature that will shine through as you help customers through some of the more difficult times in their lives. You'll also have a chance to make great new friends and grow your career in a high-energy, family-friendly atmosphere.

Does this describe you too? If yes, read on and consider joining our amazing team!


As a TTEC customer experience champion, you'll enjoy:
•Fun, talented and witty teammates
•Knowledgeable, encouraging, and present leadership
•Family-friendly environment
•Free-spirited, theme-based employee events
•Career-growth and lots of learning opportunities for aspiring minds
•Diverse and Community-minded organization
•And yes… all the competitive performance bonus earnings and benefits that'd you'd expect!!!

We are family: Being bold, passionate and real. It's what connects us here at TTEC.



• High school diploma or equivalent is the minimum and… with education… more is always better!
Career Changers welcome here!
• Time to change your career? Whether you've spent your career on the admin side in receptionist, assistant, or support roles or you've been in sales, retail, restaurant or hospitality, we believe you have the skills it takes to join our healthcare associates' team.
• Excellent communication skills – for us that means you can adapt to new and different situations, read the behavior of others, have difficult conversations with ease, and defuse and resolve conflict. In other words, you have the gift of gab.
• Empathy is the key.
• Ability to adapt and excel in a fast-paced work environment
• High school diploma or equivalent… with education… more is better
• Handy with MS Windows and other computer applications.
• The passion and drive to make a difference
What you might be doing on a typical day:
• Be providing full lifecycle customer service where you could accept inbound or might be calling out to provide follow up on a concern.
• Consult with customers on health-related products and services to provide the best solutions for their health and financial well-being
• Maintain customer accounts and information
• Respond to customer inquiries with compassion and active listening and select the best solution in an efficient manner
• Resolve customer technical issues with patience and understanding
• Identify additional needs customers may have and help them to upgrade products or services
• Both day and evening shift schedules


Here, you'll find a place where you can be your confident, genuine self and work with a team as passionate as you are about making a positive impact. You'll connect with other friendly faces who are committed to their work, have a sense of purpose, and can handle adversity with humor and grace. We support and encourage each other to succeed and love what we do. And did we mention that we are fun, talented and witty (and modest)? We're all that too.

If this resonates with your true passion and calling, then apply today for immediate consideration!

Meet our recruiters on Thursday, Oct 10th from 10:00am-2:00pm! Click "Apply now" to receive invitation.


13712